Your Guide to AGOLDE
I've got THE most detailed AGOLDE jeans review for you in today's post!
While AGOLDE (pronounced A-GOLD-EE) is a fairly new denim company, it hasn't stopped the brand from popping up in just about every major retailer across the globe. Launched in 2014 by the co-founder of 7 For All Mankind & Citizens of Humanity, AGOLDE is easily my most-worn denim.
AGOLDE's 100% denim design, mixed with high-waisted, flattering fits truly makes them my perfect pair of jeans...minus the price tag. I get it; splurging on a pair of denim isn't a quick decision, and retailing upwards of $150, there has to be a real good reason to invest.
If you've been on the fence, I'm breaking it all down for you in a comprehensive AGOLDE jeans review, including a jeans & denim shorts fit guide, my favorite AGOLDE retailers with free returns and exchanges, and which styles work best for different body types.
This has been one of my most highly-requested posts to date, so I hope you find this AGOLDE jeans review helpful!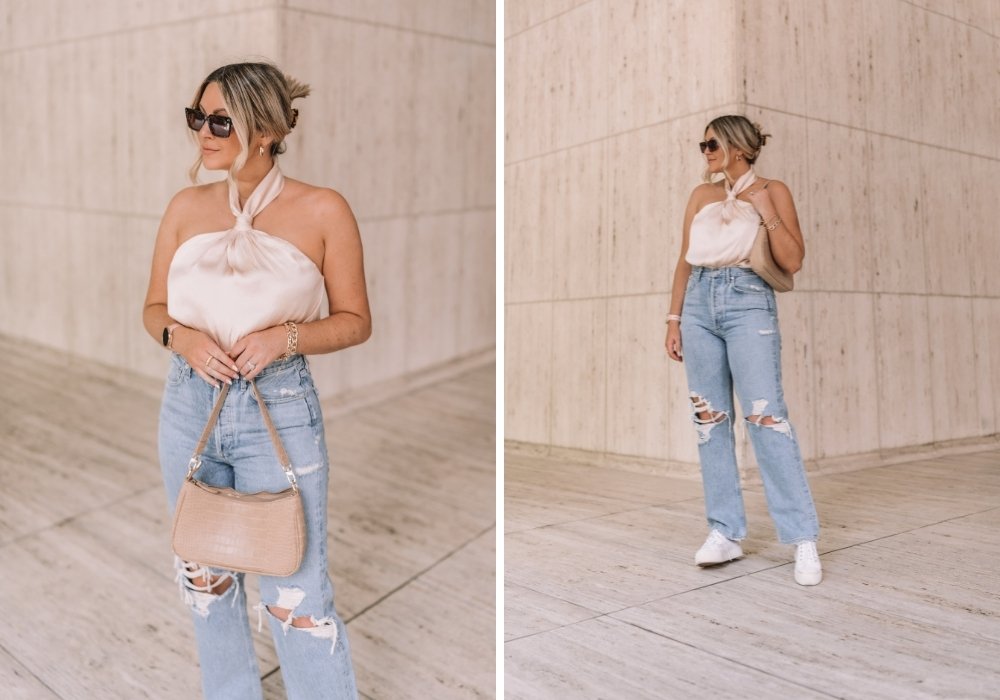 Jeans Sizing
It's important to note that any pair of jeans you purchase that's made of 100% denim will stretch. The more denim content a pair of jeans has, the stiffer it will feel when you first put them on.
You want a 100% denim jean to feel juuust a little too snug at first. Don't jump the gun and exchange them for a size up! After 2-3 wears, they'll stretch to your perfect fit.
AGOLDE jeans sizing varies. I typically wear a size 6-8 or 28-29-30 (all over the map) in denim, and I have pairs in 27, 28 and 29. Check out the fit guide for specific sizing for each of my 4 favorite fits.
Length/Hemming
You may have noticed in some photos I'm wearing the 90s fit style with a raw, ankle-length hem. AGOLDE doesn't offer this style in a raw hem; I cut them myself with a fabric scissor.
If you plan on cutting your own jeans, make sure to either mark them up while you're wearing them, or line them up against a hemmed pair you already own and love the length on.
Unhemmed, I am 5'6" and the jeans are a perfect fit, length-wise. The photos above show the true length, unhemmed!
The 90s fit jeans are by far my most-worn style! With multiple pairs in multiple washes, this is the pair I'm always reaching for when I want to throw on a pair of jeans. As noted in the fit guide, size down 1-2 sizes.
Best Retailers & Free Returns/Exchanges 
There are so many retailers that carry AGOLDE, but my 2 favorite places to order these jeans are REVOLVE & Shopbop.
At REVOLVE, all US orders ship free with 2-day express shipping and returns/exchanges are also free with a prepaid label within 30 days (return window temporarily extended to 60 days). 
At Shopbop, all US orders ship free with 1-3 day shipping (2-day express if you are an Amazon Prime member) and returns/exchanges are also free with a prepaid label within 15 days ($10 label fee if return is dropped off 16-30 days after delivery).
90's Fit
Although this pair is considered a "mid-rise" style, I definitely see it as a high rise fit, sitting right above the belly button! This is hands down my favorite pair of denim that I own. Size down 1-2 sizes for your perfect fit. If they are a little snug at first, they WILL stretch out! (The 90s fit is my most-worn pair in my AGOLDE jeans review).
My favorite washes: Fall Out, Snapshot, Captured, Smokestack

Pictured below: 90s Loose Fit Mid-Rise in Smokestack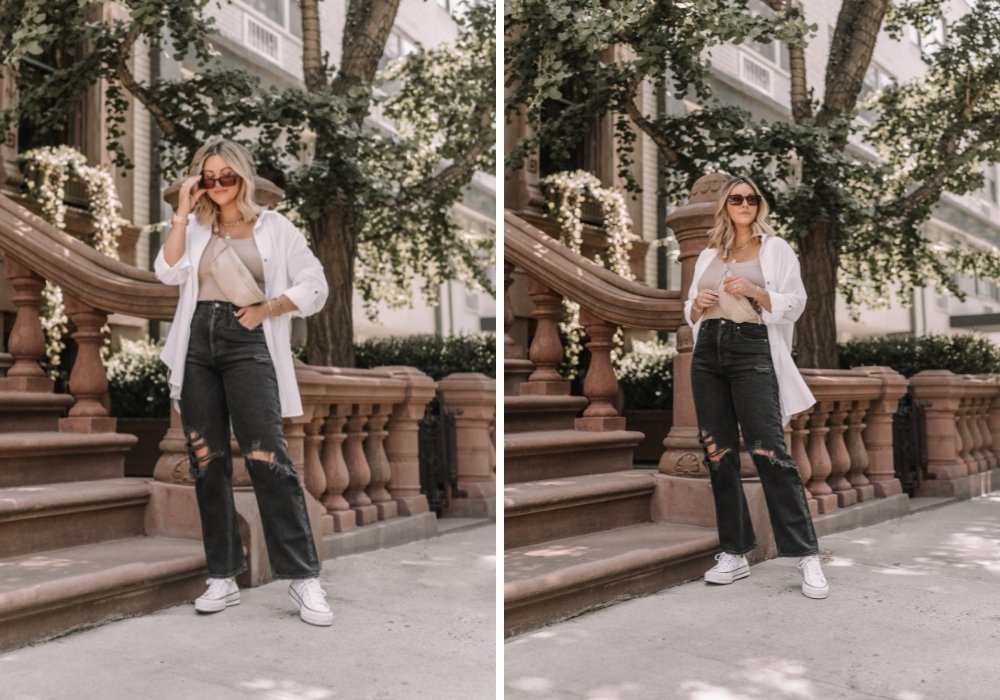 90's Fit Pinch Waist
This is THE pair if you're looking for a vintage straight style with a relaxed leg similar to the OG 90s fit. This style sits a little higher on the waist than the 90s fit and fits a little snugger. If in between sizes, size up. Otherwise, stick true to size.
My favorite wash: Line Up

Jamie High Rise
The most "classic" fitting jean of the bunch, the Jamie High Rise has a relaxed leg that tapers slightly at the ankle. This inseam is a few inches shorter than the 90s. I recommend sticking true to size on this style or sizing up if you're in between (I size up for more hip room).
My favorite wash: Spectator

Criss Cross
The most on-trend pair of the 4, this style has an asymmetrical button detail with a true mid-rise, sitting right below the belly button. This is a full-length style with a baggier, true 90s-style fit. Stick true to size for the truest fit, otherwise size down one size.
My favorite wash: Suburbia

Pictured below: 90s Loose Fit Mid-Rise (cut to ankle length) in Fall Out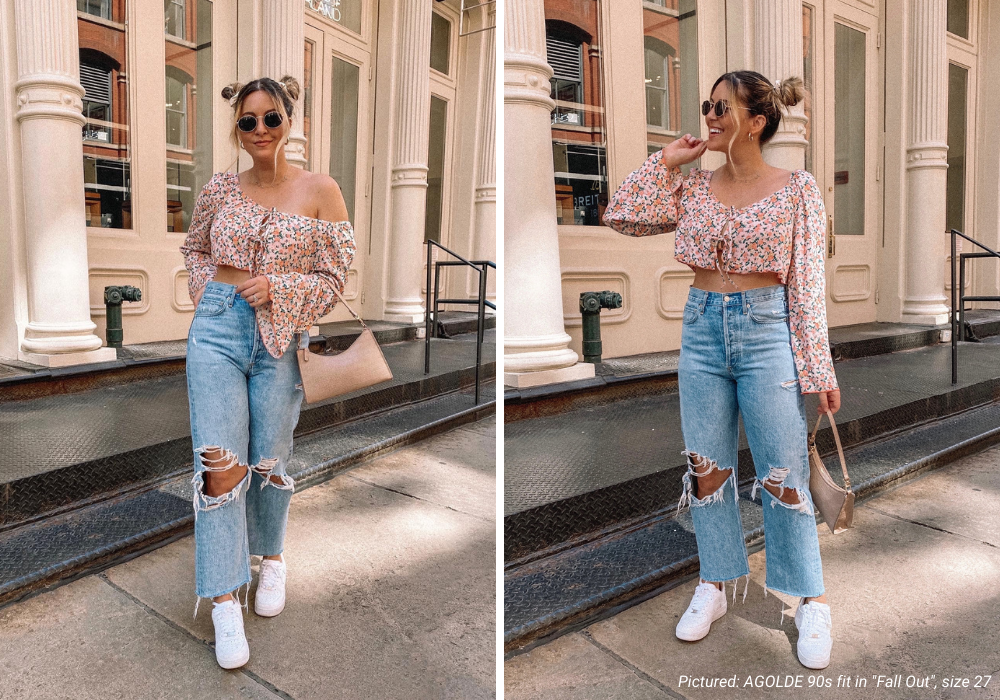 AGOLDE Denim Shorts
I'll be honest, denim shorts are (for the most part) the bane of my existence. I'm somewhere in between "I need a pair that's not riding up my butt" and "I want a pair that's flattering but also on-trend" and that balance is much harder to find than you'd think!
The fit guide will give you a little more information about each style but for me and my body type, the pair that I prefer most is the Parker Long in "Swapmeet", followed by the Dee Short in "Chimes".
The Parker style is THE classic denim short Vintage 100% denim with a mid-rise. Perfect balance of not-too-short and not-too-tight. Stick true to size. Also comes in a longer style: "Parker Long".

Dee Shorts
This short has more of a true high rise, with a bit closer of a fit around the thighs. Great everyday short that's a little longer than the parker. Stick true to size, or size up if you usually need a little extra room in the legs/butt.

Jaden Shorts
High rise similar to the Dee, with a shorter inseam. This 100% denim short also has a closer fit around the thighs but with side seam slits for a little extra room. Great vacation short for pool days! Size UP in this style.

Criss Cross Shorts
The Spring/Summer version of the Criss Cross jean. The Criss Cross shorts have an asymmetrical button detail with a mid-rise like the Parker and the longest fit of all of the shorts! If in between sizes, size up, otherwise stick to your true size.

Also see: Your Guide to the Best Denim Shorts
---
And that's your full AGOLDE jeans review! I know it's a lot of information to take in, but I hope you'll be able to use this as a guide going forward.