Shark FlexStyle Review: My Honest Thoughts
Multi-styling tools are currently in their era, with the Dyson Airwrap being one of the most talked-about stylers across TikTok and Instagram. I love that we're also in a season of really prioritizing hair health, lower heat and quality tools that minimize damage.
Don't get me wrong, I still love and will continue to use my T3 tools for certain styling needs, but ever since the Shark FlexStyle has entered the chat, it's been all I've wanted to use.
Breaking down all of the pros, cons and everything in between in today's post with a full Shark FlexStyle review and why I'm so glad I chose this over the Dyson Airwrap.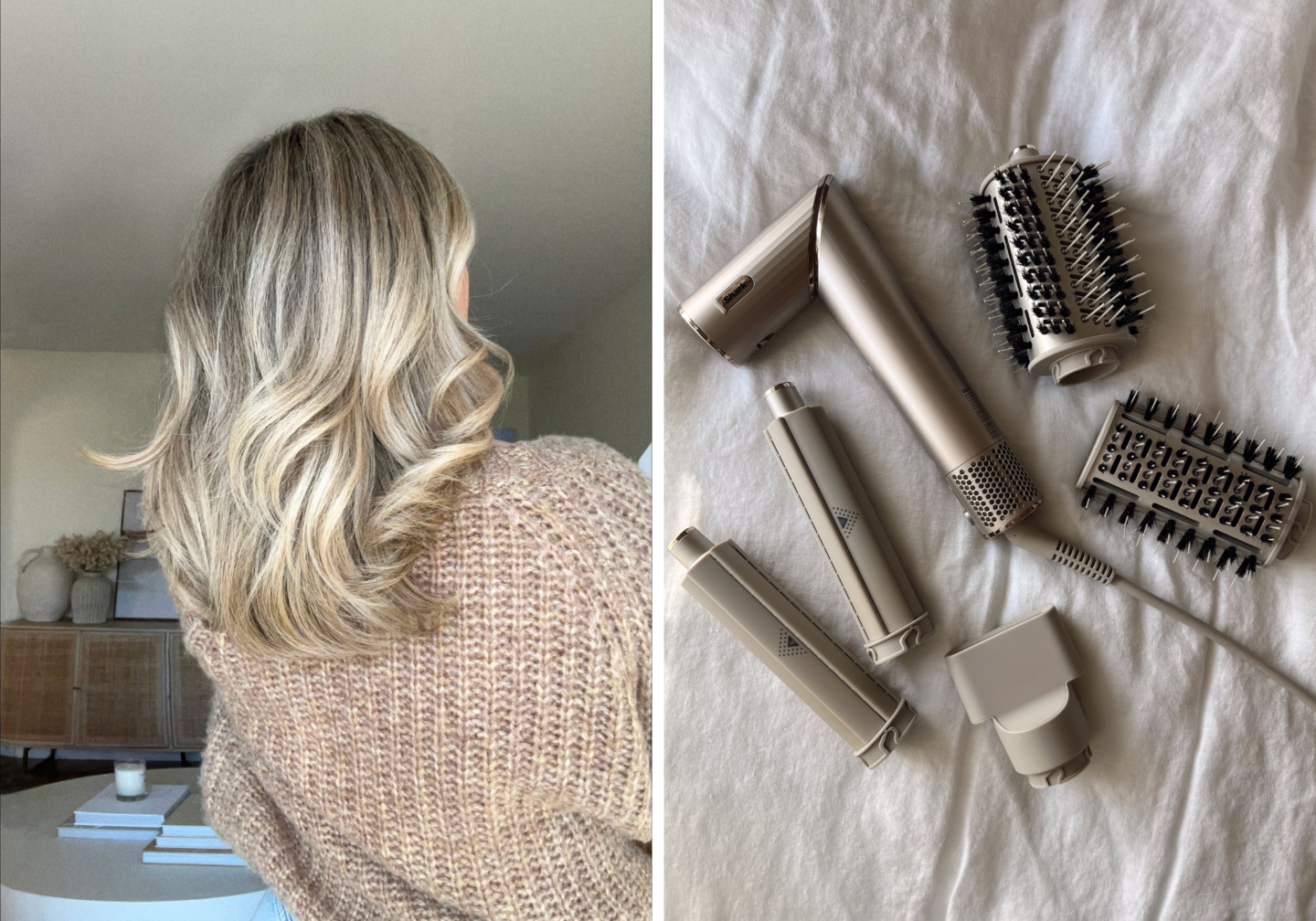 Pricepoint
The Shark FlexStyle has a few different options depending on your hair type and what you're looking for, which I find incredibly convenient. Not everybody needs every attachment, and Shark took notes. The most popular version is the "Build Your Own" FlexStyle which allows you to select any 3 stylers for $279.99.
For $20 more, you can get the $299.99 version with an extra attachment.
Although the price is undoubtedly a high cost to pay for a hair tool, the fact that you're getting a hair dryer with 3 attachments to curl, straighten and blow-out your hair combined with a system that's minimizing heat damage is well worth the cost for me personally!
What's included
My version of the FlexStyle comes with 4 attachments:
+ 1.25" Auto Wrap Curlers - One for each side of your hair. These wrap, curl and set automatically using Coanda Technology (which is the system of high-speed jet of air that allows the hair to wrap itself around the tool)
+ Oval Brush - Smooths hair, helps with frizz and adds a blowout-style volume
+ Paddle Brush - Best for straightening and smoothing hair
+ Styling Concentrator - Used with the blow dryer for better, more concentrated control when drying
All of these attachments pop right onto the base, which as a standalone, is also a hairdryer. With the press of a button, the head of the tool flips down and acts as a high-powered dryer.
What I actually use
The auto-wrap curlers and the styling concentrator are the attachments I use most. I really don't get any use out of the paddle brush, as I don't wear my hair straight. Every so often when I'm doing a rough dry, I'll attach the oval brush to help with frizz.
Is there a learning curve?
As with any new hair tool, there's a bit of a learning curve but not something to be intimidated by in the slightest. Having two curling heads designated for the left and right sides of your head actually makes the process of curling really foolproof!
I would say it took me one full try of styling my whole head to get the hang of it; but it's truly as easy as holding your hair, letting it wrap, and releasing.
A few tips:
+ No matter how thin or thick your hair is, use sections. I find that curling with a small, 1" section gives the best results. Since my hair is on the thicker side, I separate it into 4-5 sections starting from the bottom up when I'm styling.
+ For the easiest wrap with the curlers, hold the piece of your hair that you're curling towards the end, leaving about 2" dangling to start the wrap. Once it catches, let go and let it do it's thing.
+ Test out how long you actually need to hold the tool on your hair for it to hold. You might be surprised; I hold each piece of hair for just a few seconds before moving on to the next.
+ I don't find it necessary to turn the device off every time I release a curl (I only do this with my very front pieces). Instead, I quickly move the tool downwards to release the hair.
How long it actually takes to do my hair
I dry and style my hair on maximum power and temperature (more on heat damage and how the FlexStyle measures up below).
A full dry with towel-dried hair takes 6-7 minutes.
A full style from top to bottom with the auto-wrap curlers takes about 12 minutes.
A daily touch-up to the top few layers and any curls that fell overnight with the auto-wrap curlers takes 5 minutes.
But it's still a hot tool...is it safe?
Minimizing heat damage was a priority when looking at the FlexStyle because really, what was the point if I was just buying another high-heat hot tool? The Shark FlexStyle's low heat was one of the things that really drew me in although I was skeptical if a much lower heat could really get the job done for my thick hair.
What's so cool is that instead of getting hotter as it runs, the FlexStyle measures and regulates temperatures at 1,000x per second so temps stay consistent and never get too hot.
How it breaks down:
Low – 55C / 131F Medium – 75C / 167F High – 95C / 203F (with a Cool Shot to lock in style)
The maximum temperature that Shark delivers is half of the maximum temperature on a traditional hot tool.
Shark FlexStyle vs. Dyson Airwrap: Which has more value?
The Dyson Airwrap retails at $599, while the Shark Flexstyle retails at $299. Price aside the biggest difference I'd point out between the two is the FlexStyle's rotating barrel design that transforms into a high-powered hairdryer. While you can use the AirWrap to dry hair, you cannot use it with just-out-of-the-shower hair (it's intended to be used with damp to almost-dry hair) which is a huge hit to its value.
If you wanted to invest in a full hair dryer, you're adding that on to the already-steep $600 price tag of the Dyson.
The Airwrap comes with 6 attachments, which breaks down to about $100 each head, while the FlexStyle comes with 4 attachments plus a full dryer, which breaks down to about $60 each.
Ultimately, I think the value debate speaks for itself!
What I learned about Shark vs. Dyson
So you don't have to do the research...
I, like many, was tempted to give into the hype of the Dyson and see what it was all about. At first, I didn't really think there was another option out there that really measured up. The Shark 100% seemed too good to be true until I did the research and found that it actually rated higher on a lot of comparisons.
Shark FlexStyle Review: Overall thoughts
After using the Shark FlexStyle consistently for a few months now, I can totally say that it's a tool that matches its price tag. Not only do I feel confident that I'm able to style my hair just as good (if not better) as with a traditional hot tool without the heat damage, but it has also saved me so much time overall.
It's important to remember that everyones hair type, texture, how well it holds style, etc. is different. That said, the volume and longevity I get out of styling my hair with the FlexStyle really holds no comparison. I find that my hair stays looking super healthy and bouncy all day and only needs minor touch ups each morning (which is kind of a miracle given that I take no prisoners in my sleeps).
Ultimately, the FlexStyle is a 10/10 for me!