Chloé Woody Sandals Review...Are They Worth It?
The short answer; it depends. Based on your budget, your natural foot shape, your judgement of comfort and how often you plan to wear them, the Chloé Woody Sandals may or may not be worth investing in.
Breaking it all down with a full review and my honest opinion on the sandals we're seeing everywhere this season.
All current recommended retailers linked below:

Sizing
When I first purchased the Chloé Woody sandals, I went with my true size 7, which translates to an EU37. I always go for a 37 in EU sizes, and if anything, my foot runs on the smaller side of a 7 because it's so narrow. After trying unsuccessfully to break them in around the house, I just about gave up but decided to exchange them for an EU38 (US 8) to see if the larger size would make a difference.
The larger size did the trick. It felt like a different shoe almost instantly; more comfortable on both the top of my foot were the canvas was previously digging into, and on my heel that felt just a little too far back in the 37s.
For that reason, I recommend sizing up a full size in these sandals!
Comfort
5.5/10, as in...wouldn't walk a mile in them, but would be totally fine wearing them to the beach, for a night out, etc. Nice things aren't always the most comfortable, but sometimes we compromise, right?!
Edit: 6+ months into owning the shoes, I've gotten a ton of use out of them (more than I anticipated to be honest!) and have broken them in to a 6.5/10 on the comfort scale.
The sole of the shoe is a stiff leather that looks (and feels) like wood, hence the "woody" name. With a 0.3" heel, they truly do feel like a flat sandal. There's a small padded leather logo right on the heel that gives you a smidge extra cushion, but the footbed overall is stiff. This doesn't bother me because my feet are on the flatter side, but this may be uncomfortable for someone with high arches.
The most uncomfortable part of the sandal, hands down, is the canvas strap, particularly where it sits right at the top of your foot. Again, the size up left a little extra room between my feet and the strap, which made them more comfortable. Plus, the canvas does break in over time.
Helpful hack: Pick up a pair of heel liners and stick them to the upper part of the canvas strap. This has been a lifesaver for so many of my sandals!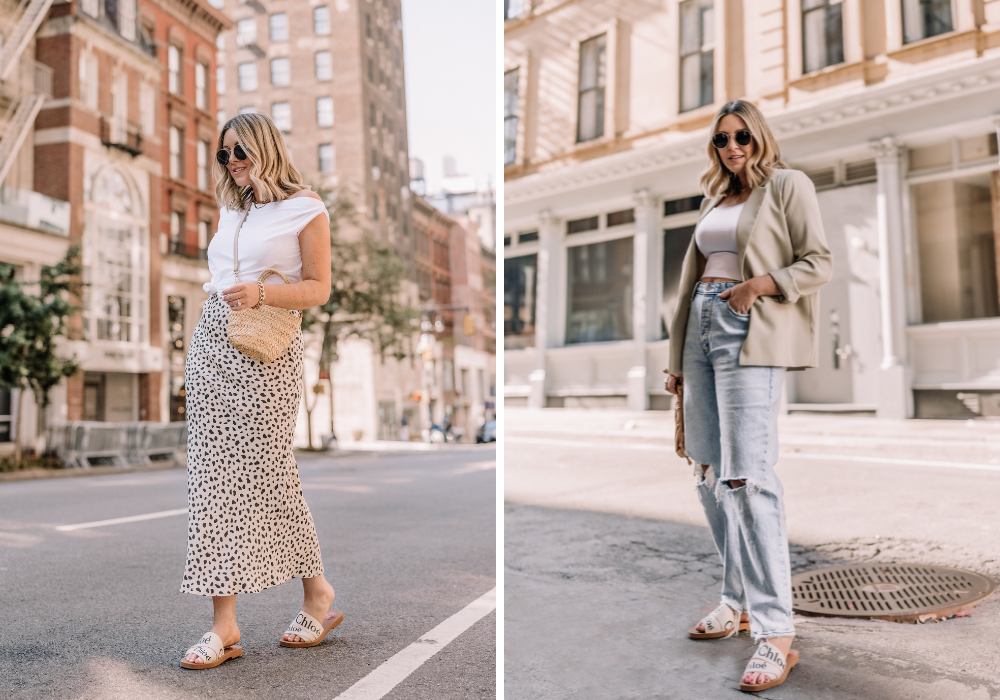 Quality
You get what you pay for in terms of quality with these sandals. That strap is not going anywhere, and the sandal itself is very sturdy and solid.
Price & Discounts
chloé woody sandals review
When I first purchased the Chloé Woody Sandals, they retailed for $395, which fell on the lower end for a designer shoe. In recent years, however, due to the popularity of the shoe, they now retail for $475. Designer pricing aside, $400+ is a lot to spend on a pair of sandals and my advice is to only get them if you absolutely love them and see yourself wearing them for seasons to come.
I paid right around $250 for mine with a great discount from 24S, a well-known French retailer which ships next day free to the US. The 24S returns process is a bit of a pain, so you might want to head to a  Nordstrom or a Saks to try on in-store first before purchasing. Both 24S and SSENSE are the best retailers to buy from discounted. Check the top banners on the website for first order coupon codes or do a quick Google search for active discounts, which can get you upwards of $100 off!
Overall
I love them for the design, but overall I like them because of the not-so-spectacular comfort. That said, I've gotten a lot of use out of them in the Summer and they've been completely fine for short periods of wear. Like I said, I wouldn't walk a mile in them, but they're great for a beach/pool day, a dinner, or a casual event where you know you won't be on your feet all night.
Hope this review was helpful! Any questions I left out, send me a DM on Instagram @daniellegervino!
See what I'm currently loving + wearing this season at The Shop