An Honest Review of My Designer Handbags
Investing in a designer handbag is never something I've felt an inherent need for over the years, but somehow simultaneously, I have a collection to share with you. Funny how that happens.
I've never been an impulse buyer when it comes to designer handbags and always like to sit on a new bag for at least a few months before making a decision. Truth be told, I've had bags on my radar before that I've changed my mind about before purchasing and I'm a big believer in giving it time before making the investment.
I thought it'd be helpful to break down some mini reviews on my designer handbag collection; which ones I love and use often and which have unfortunately started collecting dust over the years.
Prada Re-Edition 2005 Saffiano Leather Bag
I added the Prada Re-Edition to my list after using a similar style of a crossbody bag with a coin purse that I had purchased on Amazon for over a year. It was easily my most-worn bag, and the decision to upgrade came pretty easily.
What I love about this bag is how functional it is. It coverts from a crossbody to a shoulder bag to a clutch in an instant, and though I love the coin purse feature for holding credit cards or cash, that detaches too. The color matches with everything and allows me to wear it year-round, making it one of my most-worn designer handbags to-date. The Saffiano leather is quality and I also love that this bag really doesn't pick up any dirt and has stayed in perfect condition since day one. Although Prada is without question one of the pricier designers when it comes to bags, you definitely get what you pay for.
Prada Emblème Saffiano Bag
The Prada Emblème was a wishlist item that I wanted for a while and couldn't pull the trigger on myself. Joe ended up gifting me this bag for Christmas and while I would usually have something to say about him spending that much on me, I let this one slide 😉.
This bag is made from the same Saffiano leather as the Re-Edition. It's not a smooth leather, but a subtle textured cross-hatch finish; something to take note of depending on your style. I get a ton of use of out of this bag because of its simplicity and find myself reaching for it most often when I want something classic and easy to carry. This is another one that can be worn multiple ways given how it's handle is constructed. I wear it most-often as a crossbody but it also easily converts into a shoulder bag.

PS - need more ideas on how to style leather pants? Head here.
YSL Le 5 à 7 Bag
This bag is one of my favorites, aesthetically speaking, and was on my wishlist for a while before I purchased it.
The Le 5 à 7 is a stunning and simple shoulder bag that gives off a familiar 90s hobo vibe. While it has the simplicity of an everyday bag, I went into purchasing knowing that this would be more of a 'dinner then home' bag than a bag that I carried with me all day long. What I don't love is that your things are only held in with the thin strap that closes the bag; otherwise everything is exposed with no zippers or closures. This bag makes the perfect occasion bag but if you're looking for something practical and great for everyday, I would recommend spending your money on something more functional.
YSL Solferino Medium Satchel
The Solferino Satchel was another gift from Joe and one that was on my wishlist as a classic, everyday bag for a while. The reason I never purchased it myself was because it was always felt like more of a want than a need.
I like that this bag is sturdy with a good amount of storage. While this bag is great as a shoulder bag, it sits a bit awkwardly high as a crossbody. If there was just another 2" on the strap, it would be perfect but at it's longest point (strap is adjustable), it sits just under my chest whereas I'd prefer it to sit at my waist. I definitely get more use out of this than the Le 5 á 7 bag, but not as much use as my Prada bags. If you don't mind or don't intend to wear it as a crossbody, it's incredibly functional with a very high quality, thick leather feel.
Coach Pillow Tabby Shoulder Bag 18
I went back and forth between the Pillow Tabby 18 and the 26 before ultimately deciding on the smaller of the two. If you're looking for a super reasonably-priced designer handbag, Coach has had a major glow up in the last few years.
I wanted to go with the smaller version because I really didn't have a bag of this size, and sometimes all I need is a place to put my phone and a credit card (this is about all it holds by the way, plus a lip balm). This was my go-to for all of Summer 2022 that was just so easy to throw on and go and matched with everything. While the 'pillow' style is more trendy, the bag itself is classic and simple enough that you can use it as a staple for years to come. Because I knew what to expect with the smaller version going into purchasing, I've absolutely loved this bag.
YSL Lou Camera Bag in Quilted Leather
The Lou will always be a special bag for me because it was my first designer bag purchase. I loved it so much that I ended up purchasing 2 colors; beige and black, and over the first few years I had them, I got tons of use out of them both.
This bag is best suited as a crossbody (which, IMO, is the most functional and convenient type of bag), has plenty of room and zips fully closed which I love. My one regret with this bag is buying it at a time where the quilted style of the bag was trending versus looking for something a bit more timeless. It's still a gorgeous, quality design, but I don't find myself reaching for this bag now as much as I used to because I simply don't love the quilted style right now.
Gucci GG Marmont Small Shoulder Bag
I like to think of the GG Marmont as part of the influencer starter kit because at the time I purchased it, it was what every influencer was wearing 24/7 at the time. In hindsight, definitely a sign that I should have sat on it a bit longer before purchasing which I am very adamant about doing now!
This is one of Gucci's classic bags that's super functional given the conversion from shoulder bag to crossbody. Although it fits the essentials, the inside storage space is a little deceiving and smaller than you would think for a bag of its size. I got this bag in white (more of a creamy off-white) and still find myself reaching for this bag when I want something light-colored, but the chevron pattern feels a little outdated to me.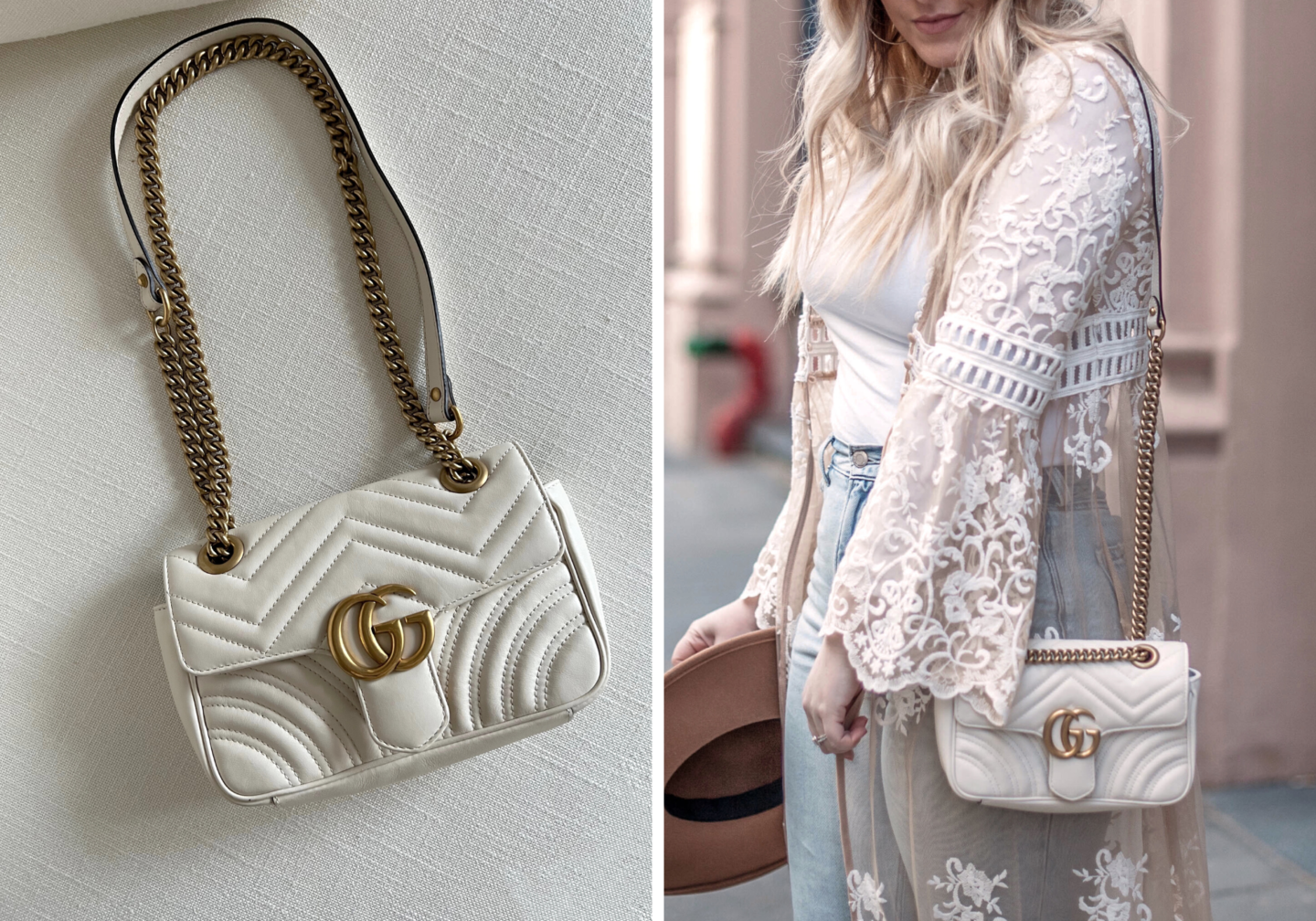 Other designers handbags I purchased or was gifted and unfortunately don't get as much use out of:
Saint Laurent Jamie Quilted Bouclé-Tweed Shoulder Bag - This bag is stunning but I honestly forgot I had it! Definitely want to bring it back out, although it's very much a Winter bas given it's texture.
Chloé Marcie Leather Saddle Bag - I was gifted this bag and unfortunately it just didn't hold up for me (style wise) out of time. The shape feels outdated and the color (Cashmere Grey) just isn't my favorite.
Chloé Pixie Crossbody Bag - This is another one I was gifted many years back. The gold hardware is a bit too much for me.
Designer Handbags on My Wishlist
I always like to keep a running wishlist so I can see the bags that I truly keep coming back to after time. Here's a few designer handbags I've been eyeing...
Coach Tabby Shoulder Bag 26 - I've been coming back to this one for almost a year now, but can't decide on black or off-white
YSL Cassandra Mini Top Handle Bag - Love the style, size and versatility of this top handle to crossbody bag
YSL Rive Gauche Supple Tote Bag in Raffia Crochet - This is really more of a wishlist item than anything else because I can't justify spending for a one-purpose bag
Bottega Veneta Teen Jodie - I have a similar version of this bag and adore it, but I worry about the timelessness of this quilted style
Jacquemus Le Grand Bambino - Love the simplicity of this one and a great price-point when it comes to designer handbags