Self Tanning Tips for Beginners & Beyond
Gone are the days of slathering up in oil and baking in the sun with no sunscreen until you've mastered the perfect tan. Skin cancer is actually the most common form of cancer in the US. Not to mention the years that sun exposure can add to our skin.
IDK about you, but I am just fine mastering my tan from the comfort of my home, minus the harmful effects from the sun. Jump to: my favorite self tanners
In today's highly-requested post, I'm breaking down the best self tanning tips for beginners and beyond. As someone who is naturally very fair-skinned, I've been experimenting with self-tanner since I was in high school. I've tried it all; spray tans, at-home airbrush tanning machines, mousses, gels, tanning wipes...you name it. I've gathered everything I've learned over 15+ years to share with you today!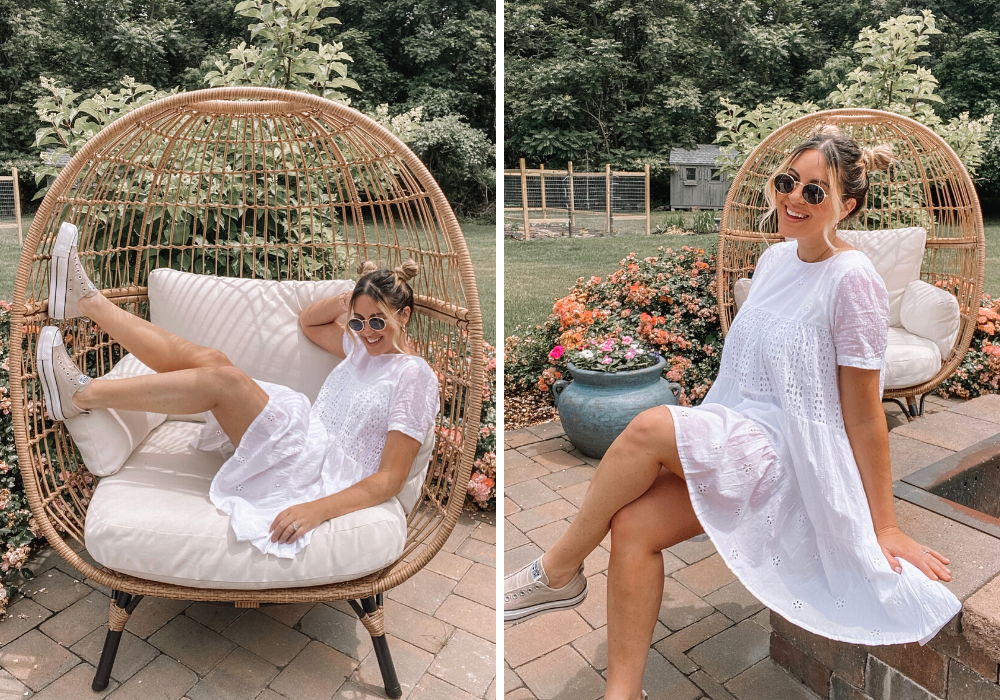 6 Steps to the Perfect Tan
01. Shower, exfoliate and shave at least 12 hours prior to tanning
Setting up your body for self-tanner is a crucial step in achieving a flawless, smooth tan. You want to make sure that your body is properly exfoliated (especially if you're reapplying self tanner after it's sat on your skin for a few days) and that your legs are smooth.
It's important to abide by the 6-12 hour rule so the pores on your legs have a chance to fully close up. If you self-tan immediately after shaving, your skin can react to the ingredients in your self tanner, creating a similar rash to razor burn. Additionally, your self tanner can "cling" to your open pores, causing that strawberry legs-look. PS - If you suffer from razor burn or strawberry legs, try this shave cream.
Note: 6-12 hours is a general rule of thumb. If I'm in a rush I always wait a full hour minimum.
02.

Only

moisturize these areas
Moisturizer acts as a barrier between your skin and your self tanner, and will dilute the color of your tan. In order to prevent your self tanner from soaking in too much on the drier areas of your body, make sure to moisturize the following areas: hands with a focus on knuckles, inner wrists, elbows, knees and feet with a focus on heels. 
Hands and feet are often the trickiest areas to perfect when it comes to self-tanner, and moisturizing them fully is a great self tanning tip for beginners to lessen the chances of streaking or mistakes.
Don't moisturize all at once! Most moisturizers dry fairly quickly, and if you apply your moisturizer to your entire body, by the time you've worked your way up to your top half, it will be too dry.
I tan in 5 quadrants and wait to apply moisturizer until right before I'm ready to do a single area: left leg, right leg, stomach/back, left arm, right arm

03. Dampen your tanning mitt
You've probably heard that the most effective way to self-tan is on completely dry skin; which is correct...with a caveat!
Yes, your skin should be dry prior to self-tanning, however, dampening your tanning mitt before applying your self tanner is a great self tanning tip for beginners especially to ensure an easy, smooth application.
The key here is to gently wet your mitt before wringing it out completely. Think of it similar to using a wet versus a dry beauty blender to put on your makeup. The dampened mitt is going a) prevent your self tanner from soaking right up into the mitt, and b) help your self tanner to glide on more easily, without settling into dry spots.
04. Don't skimp on product!
In the case of self tanning, less is not more. Too little product can cause streaks, so be sure to apply a generous amount to each section of your body.
As a general rule of thumb, I usually apply 2 pumps per bottom leg, 3-4 pumps per thigh, and 2-3 pumps per arm.
If you ever feel like you've picked up too much product, simply grab the excess with your mitt and rub it into a place on your body with a larger surface area like your stomach or your back.
05. Work in quick, circular motions
The best way to apply self tanner is quickly. Depending on the formula you are using, some self tanners will dry very quickly on your skin (another reason why a damp mitt comes in handy) and working in quick, circular motions will ensure the most even application.
To see a tutorial of how I apply my self tanner, visit my self tanning story highlight!
06. Minimize room for error with this finishing touch
Once you've finished self tanning, clean up any excess tanner or tricky spots by applying moisturizer to a towel and gently "buffing out" the area. I like to do this especially on my inner wrists, heels, and elbows. This is a great trick to dilute the self tanner enough that it won't streak, without completely removing it. This is one of my favorite self tanning tips for beginners!
My Top Recommendations
See my ratings and full review for each of these tanners in this post! 
Dolce Glow / +Lux Unfiltered / Tan Again (15% off with DANIELLE)/ Elle Effect
Tip: I love using a dense brush for areas like hands, feet and especially face! Code DANIELLE for 15% off this one by Tarte.
Self Tan "Supplements"
Lux Unfiltered N°10 Blurring Body Glow - Beautiful blurring and illuminating coverage to enhance your tan. Won't come off on clothing, either!
The Tint by The Elle Effect - Great instant dark color when you need a quick fix. Darker than N°10 but not as glowy.
Vita Liberata Body Blur - I was actually one of the first to test the new & improved formula! I've always loved this product. Creates such a smooth, airbrushed look.

Summer Fridays Pool Time Glowing Body Oil - An all-over moisturizing body oil that gives you an instant glow
Kopari Coconut Sun Shield Body Glow - The newer version of the OG Coconut Body Glow, now with SPF 50. Has a yummy coconut scent!
RMS Beauty Living Glow Face & Body Powder - A loose powder highlighter that will enhance your glow. Apply to clavicle and shoulders!
DIBS' Status Stick - Great alternative to the RMS powder if you prefer a cream!
Best Self Tanner for Your Face
In the past, I would tan my face with my leftover self-tanner after tanning my body. While this worked for me, I recommend using a self-tanner specifically formulated for my face which I've actually come to prefer since many also contain skincare ingredients.
The more product you use, the darker your tan will develop. I usually mix about 5 drops of product in with a light moisturizer and rub in, making sure to cover all areas of my face down to my neck. I tan my face 1-2x a week!
Lux Unfiltered No.12 Bronzing Face Drops / Summer Fridays Dream Oasis Serum (mix with face tan) / Drunk Elephant Sunshine Drops (for after tanning)
Quick Tips
+ If you are fair-skinned, look for a self-tanner with a green undertone. It will be less likely to develop with an orange-y tone.
+ If you are tanning at night, buy a separate black sheet set and sleep with the topsheet and the pillow case to avoid having to replace your sheets entirely. Simply throw the black sheets in the wash the next day.
+ Clean your tanning mitt after every use to avoid your next tan applying splotchy. Just a simple rinse with soap and warm water. I position my mitt over my faucet handle to try over night.
+ If you don't have anyone around to get the hard-to-reach spots on your back, try turning your mitt around so that you're applying with the back of your hand vs. your palm.
+ You can also purchase a mister bottle and fill it with a small amount of your liquid tanner for easy application on your upper back area.
+ A foam or a mousse is easiest to apply, and what I recommend most for beginners especially.
+ Keeping your skin moisturized post-tanning will help to lock in and prolong your tan.
+ When washing off your self-tan the next day, use mild soap and water and avoid any exfoliators or loofahs to keep your color intact.
+ Stand in front of a mirror when applying your tan and check easy-to-miss areas like behind your knees and the outside of your forearms before clothing.
I know that's a lot of information to digest, but I hope you found these self tanning tips for beginners & beyond helpful. Happy bronzing!