How to Find Your Undertone & the Perfect Foundation
Let's Talk Undertones!
One of the most frequently-asked questions I get when sharing makeup is "how do I find my foundation shade?". Here's the honest truth...so many online retailers have become so great with their return policies, and I always recommend ordering 2-3 shades when you're trying a brand new foundation and returning the ones that don't work. skin undertone
That said, it's still important to have a starting point! Most makeup brands will categorize their shades with undertones in mind or show you photos of skin with different undertones, which will help you make your selection. skin undertone
You'll often hear things like "warm undertones" or "pink undertones", and today we're going to demystify what all of that means and make it a little bit easier to find your next foundation match.
PS - I wear shades Light & Neutral Medium in my favorite ItCosmetics CC Cream + Illumination and switch between the two shades depending on the tone of my skin (seasonally, with/without self-tanner, etc.)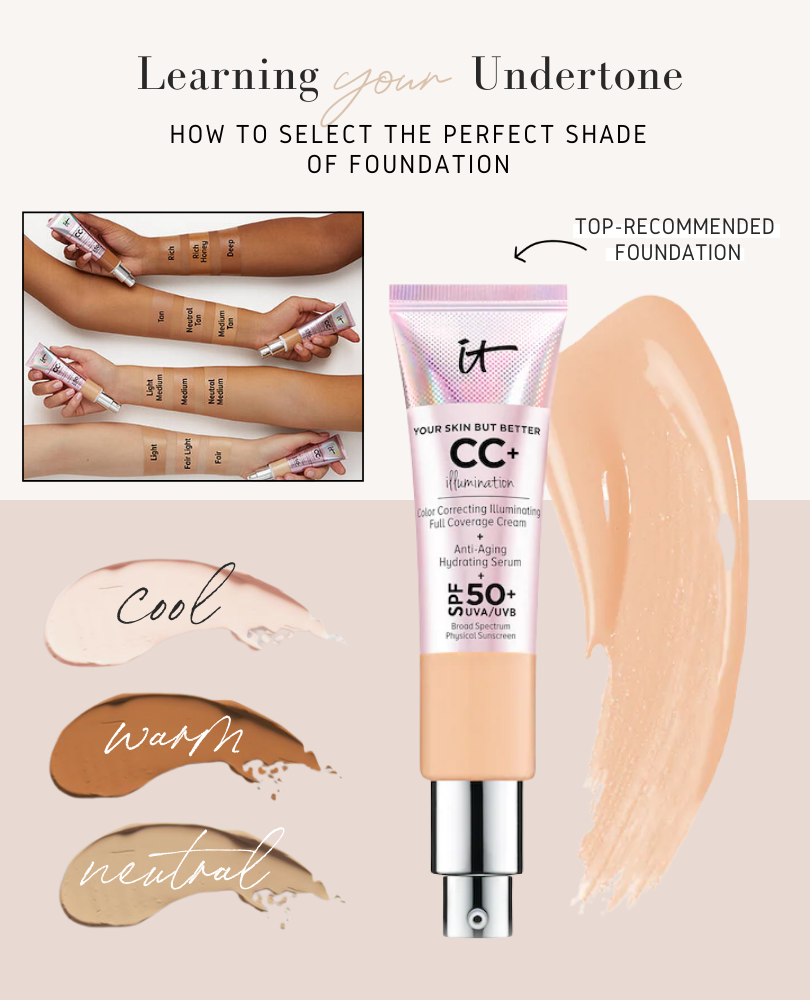 Top-Rated Foundations

1. Think about how your skin reacts to the sun.
IF you burn easily, you have a cool undertone.
IF you get slight burn which later turns into a tan, you have a neutral undertone.
IF you rarely burn and instead tan easily, you have a warm undertone.
2. Do you look best in silver or gold jewelry?
IF silver is most flattering on your skin, you have a cool undertone.
IF you can rock both silver and gold and they both look great, you have a neutral undertone.
IF you always gravitate towards gold, you have a warm undertone.
3. What overall color are the veins in your wrists?
IF your veins are blue or purple in color, you have a cool undertone
IF your veins are a blue-ish-green, you have a neutral undertone.
IF your veins are slightly green or olive, you have a warm undertone.
Here's where the colors come in:
Cool undertones = pink      Neutral undertones = yellow     Warm undertones = beige
Of course, you can always ask a makeup artist in-store, but for all of my girls ordering online, remember these tips next time you're trying to find your match!
See my full makeup routine & favorite products here!