I will be the first one to say it; I hated leopard. I'm not typically one of those people who proclaims, "I'll never wear x, y or z" because I know how quickly my own mind changes. Except for leopard. I can't tell you how many times I said I'll never wear leopard.
Why? It always seemed like a gaudy, over-the-top print to me. Until of course, it came into the spotlight and I kept seeing it over and over again (most of the time, styled really tastefully); and then I officially decided I'd do the unthinkable and give it a try myself.
Here's the thing - I'm not going to have a closet full of leopard print, because I still don't love it. But I like it, and think that if done right, you can pull off this trend without overdoing it.
1/ Layer a Leopard Dress
With a Chunky Knit
I found this leopard wrap dress on ASOS and fell in love with the design, BUT, I didn't love the idea of being in leopard head to toe.
Wearing a full printed dress would have been a bit too bold for my style, so I decided to layer a neutral chunky knit on top, throw on a pair of sneakers for a casual feel, and grab some neutral accessories (PS - my bag is under $100!).
I felt so comfortable in this look and loved how the ivory on top kept the look soft and neutral.
If you have a sweater and feel it's too long or bulky, simply knot it up, or use a few pieces of double stick tape to create a 'front-tuck' illusion.
Shop My Look + Similar Styles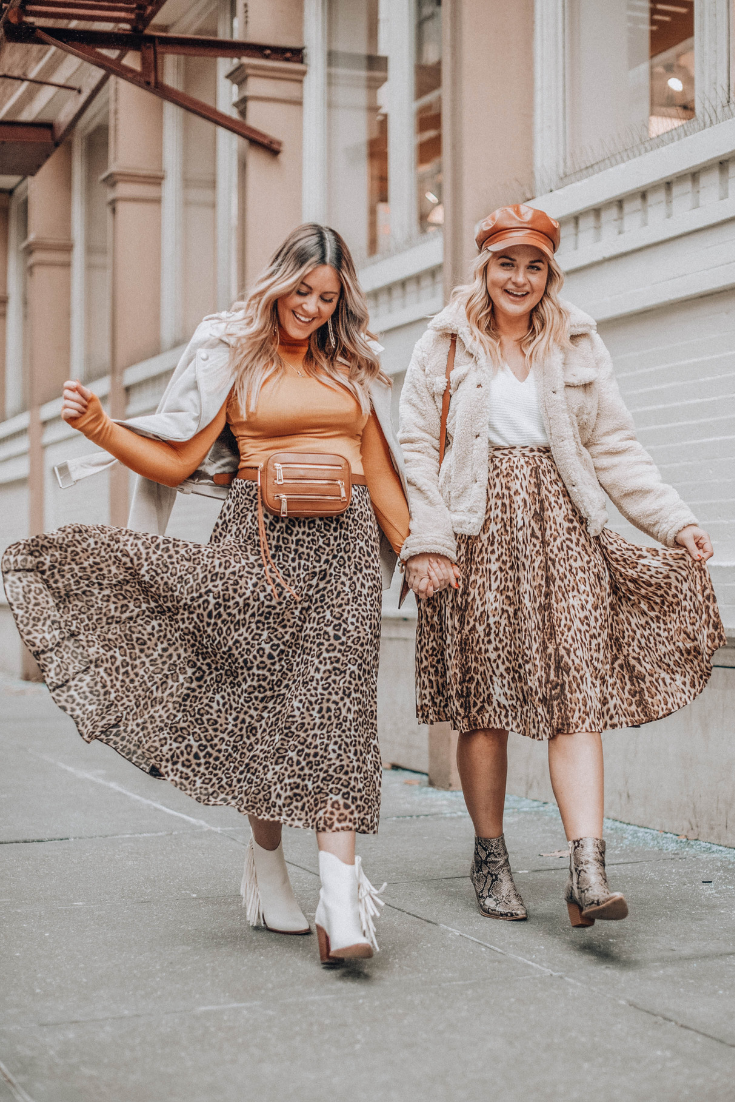 2/ Pair a Leopard Midi
with a Pop of Color
Contrary to some styles I've seen, leopard print doesn't go with every color. I personally, would never wear leopard with pink (too much for me) or blues, greens, reds.
When I found this maxi skirt, I knew I wanted to style it with a more fitted turtleneck and a pair of booties, but I wasn't too sure about the color palette. Of course, black or brown would have been a logical option, but you guys know I typically steer clear of super dark colors.
As I flipped though my closet, I came across this mustard layering turtleneck and it was a perfect match. Still in the same color family, but a little more fun than a traditional neutral. To soften the colors, I paired it with these white boots and a draped suede biker jacket.
Shop My Look + Similar Styles

How are you feeling about leopard print this season?
Love it, hate it, or somewhere in between like me?