Adidas Samba Sizing Guide and Review
The Adidas Samba sneaker has been around forever, peaking in the early 2000s and then picking up steam again in 2021 on TikTok. By 2022, we saw a lot of references in European fashion and currently, the Adidas samba style is all but sold out due to its popularity.
The one question everyone (including me) seems to have though is...how do you figure out Adidas Samba sizing?! Because the shoe is so hard to come by, when I first ordered this style I wanted to make sure I didn't have to do a ton of trial and error when it came to finding the right size. After lots of research, a deep dive into the EU shoe sizing system, and now owning a few pairs of Sambas to compare, I'm sharing an Adidas Samba sizing guide + everything you need to know before you buy.
I'm styling my Sambas with these Fall staples this season if you need ideas!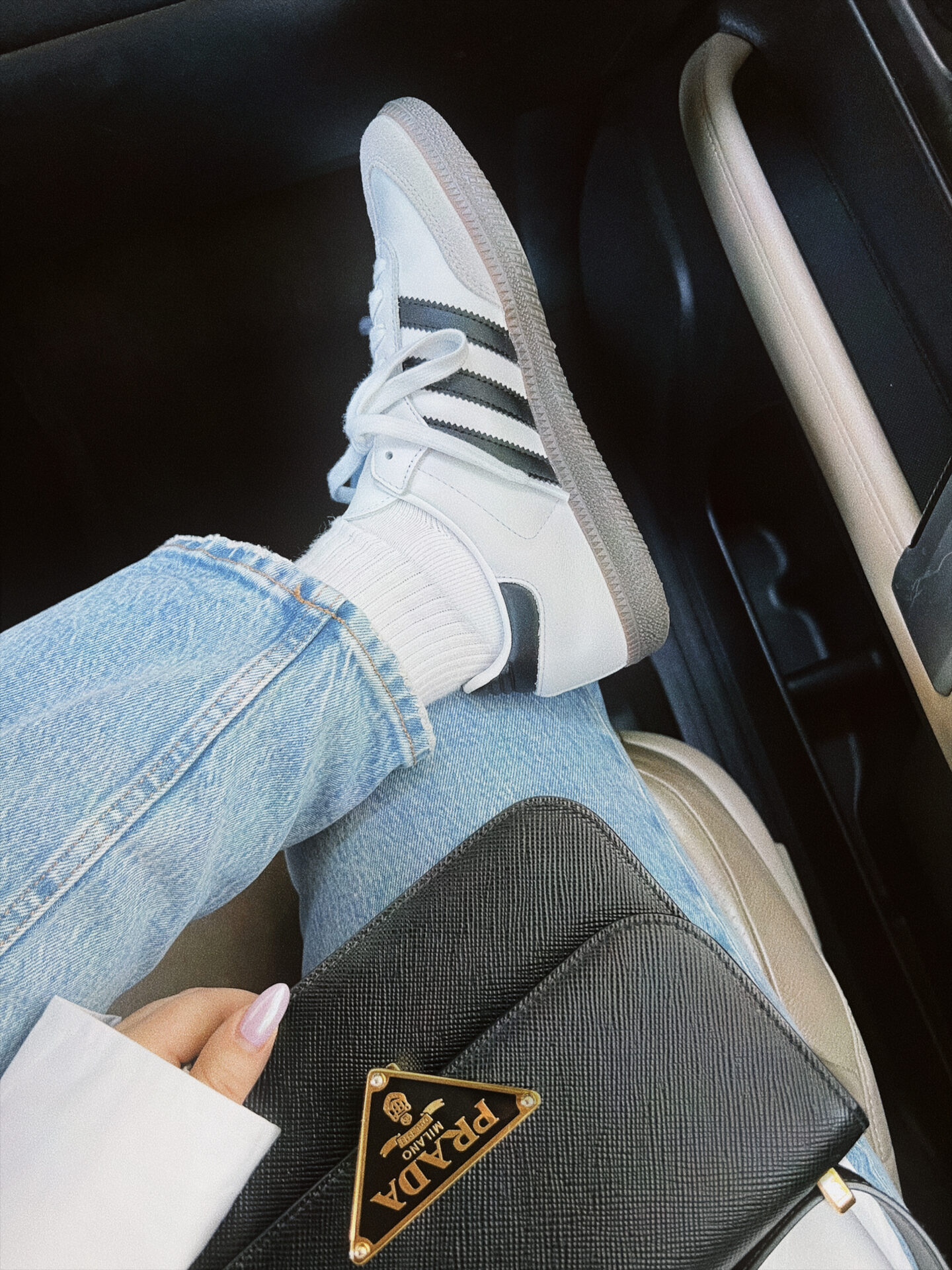 One of these size charts isn't like the others
One thing I've learned is that EU sizing isn't necessarily standard. Although you can mostly assume for example that a size Women's US7.5 translates to an EU38, there can be slight variations depending on the company, manufacturer, etc.
For example, Adidas (Germany) equates a US7 to an EU38 2/3, while Veja (Brazil) equates a US7 to an EU38 and Birkenstock equates a US 7-7.5 to a 38. All similar, but slightly different (and confusing IMO).
Adidas Samba sizing guide
The Adidas Samba (OG style) is a unisex shoe that comes in both half and full sizes. In my opinion, the shoe generally runs true to size but does fit narrow. Sizing up a half size is something to consider if you have a wider foot.
I think by default we think to browse by our US size because it's what we know best. However, what I've learned that especially with footwear brands that are European-made, it's most accurate to use the origin sizing to find your size! So, instead of buying based on your US size, buy based on your EU size. Which leads to...what if I don't know my EU size?!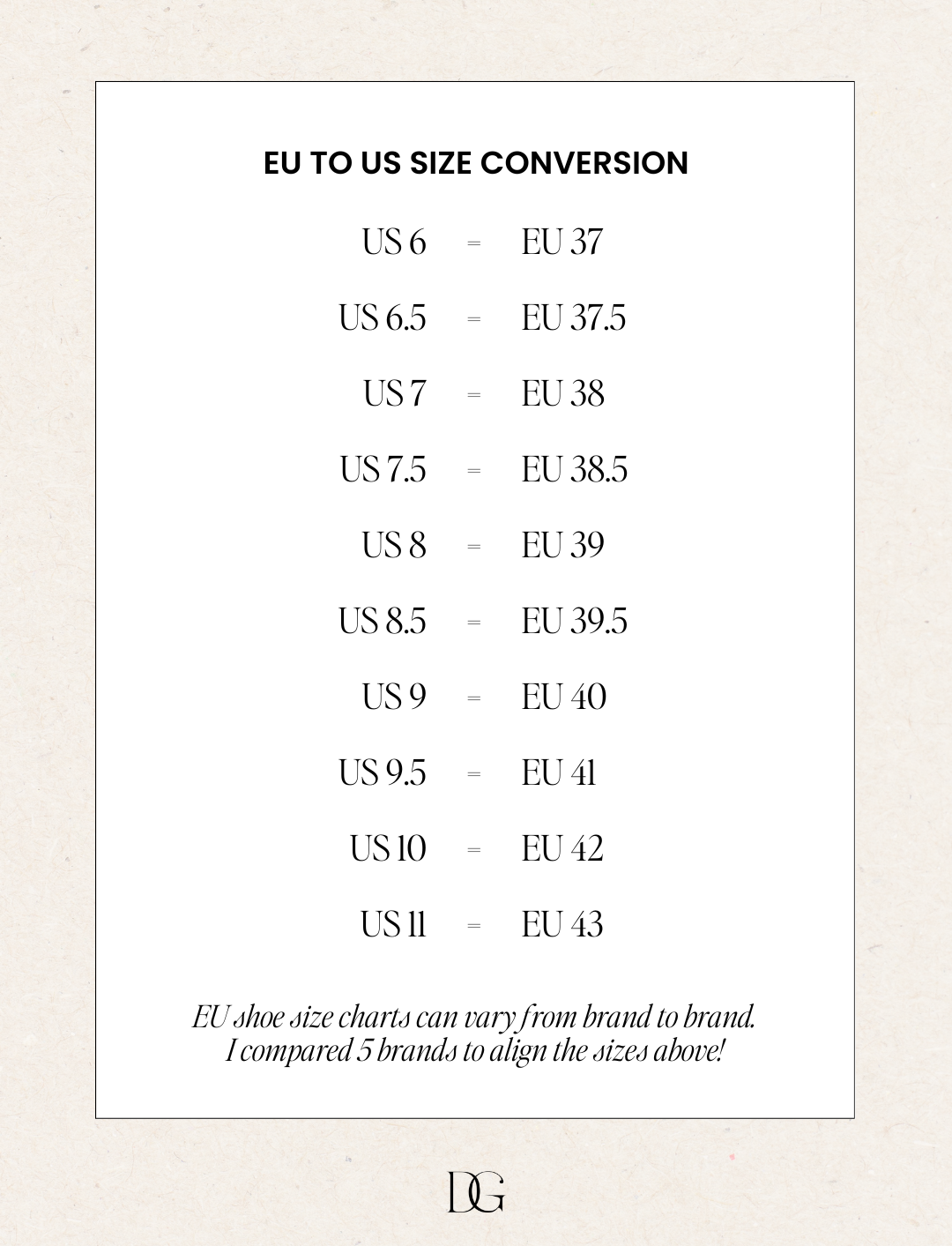 The guide above is not Adidas' size chart, but it's a great place to start to find your US to EU size conversion. Adidas' size chart can appear a bit more complicated because they offer EU sizes in whole sizes and thirds: (For example: 37 1/3, 38, 38 2/3). My advice is to use the chart above to find your EU size, and then use your best judgment with Adidas 'thirds' sizing based on the width of your foot to find the closest match!
Adidas Samba Review
Sizing
In my opinion, the Samba generally runs true to size with a narrow fit. I wear a true size US7 and have a narrow foot and when I buy EU, I almost always buy a EU38. I have Adidas Samba styles in both the 38 and the 38 2/3 and while they both fit, I actually prefer the fit of the 38 2/3 because it's a smidge roomier in the toe.
Quality + Comfort
Fun fact...the Sambas were originally designed as soccer shoes, which definitely speaks to their durability. The Sambas were comfy right out of the box for me. Initially I was a little skeptical about the leather tongue with a shorter ankle sock, but the leather felt very soft and movable right out of the gate. Speaking of socks...this pair is my all-time favorite (really for any shoe but especially the Samba) and if you want something a little more fun, I also love these.
If you just can't get on board with the chunky dad shoes, these are a great lightweight sneaker option. Worth noting that they have a low-to-the-ground feel and if that's something you're not used to, they can potentially feel a little 'flat'. Not an issue for me though, although if I was walking a super long distance I'd probably opt for something with a little more substance.
Trend Longevity
While I can't really say how long the Sambas are here as the sneaker, I can say that with this style being around since 1949, it's certainly here to say. They've been going strong in fashion since 2021 and are in the spotlight this year for 2023. At the very least my prediction is that they'll continue as the 'it shoe' into next season and continue to be an on-trend shoe after that.
The Adidas Samba is a great sporty yet wearable style that can be worn casually with jeans and a tee or dressed up with tailored pants for a smart casual modern office look. Here are some ways I've loved seeing them styled: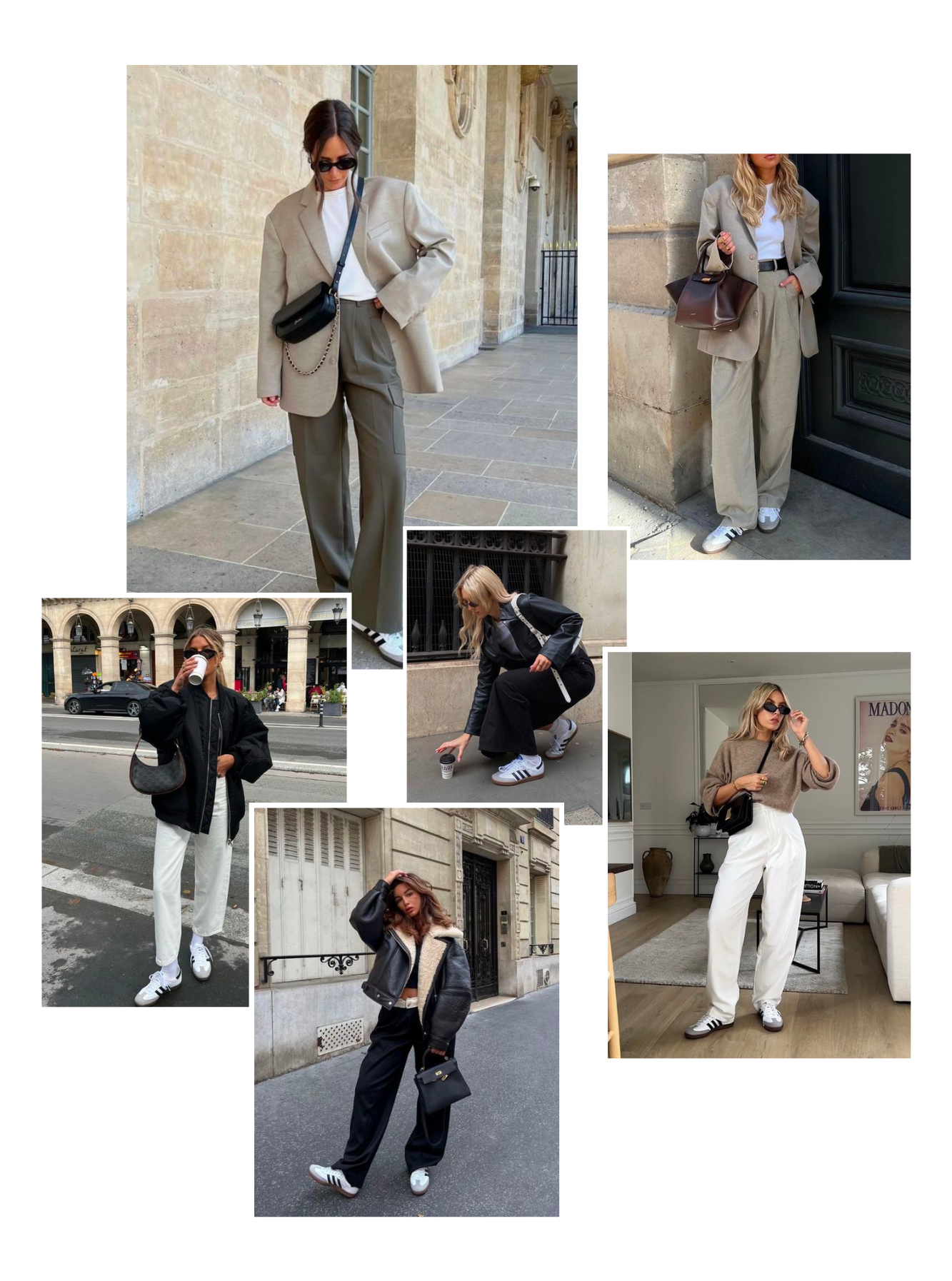 Best places to shop for the Adidas Samba
The best place to shop for the Adidas Samba will always be directly from Adidas, but what's great is that when styles sell out quickly, there will always be other retailers where you can find them. REVOLVE and Finish Line are great secondary places to check for your size.
If the Samba sneaker is high on your wishlist, you could also try websites like StockX (where I bought mine), Farfetch or GOAT. All of these sites are legitimate and verified resale marketplaces where you can find brand new, in-box styles. StoxkX is always my first choice! I've bought many shoes from them and the process has always been super quick and smooth. My only complaint is that the fees and shipping are a little steep compared to if you were buying from a traditional retailer.
Current favorite Samba styles

Hope you found this Adidas Samba sizing guide and review helpful. I know I'll certainly be getting lots of use out of my Sambas this season.