20 Spring Wardrobe Staples Guaranteed to Help Build Any Outfit
Trends are what drive me from season to season; something new to feel excited about - something fresh and fun to experiment with. While I love a new seasonal trend, what I've come to realize over the years is that trends only really carry my wardrobe so far. It's the wardrobe staples, rather, that I find I reach for most. Whether I need something quick and simple to wear or whether I want to build an outfit with a solid base, there are certain pieces in my closet that consistently make their way into just about every outfit I wear.
In today's post, I'm sharing 20 Spring wardrobe staples that you'll wear over and over again. You know we live for neutrals over here, so everything you'll see falls into a black-white-beige spectrum.
What about florals and pops of color?
That's the beauty of spring wardrobe staples! Think of these staples as your pieces that can start or finish any outfit. As long as you have the essentials, adding in something like a colorful heel or a floral is a piece of cake.
Black Blazer, Gathered Sleeve Blazer, White T-Shirt, Slingback Heel, Light Wash Denim, Satin Blouse, Layering Necklace (code DANIELLE20), YSL Handbag, Trench Coat, Leather Jacket, Suede Jacket, New Balance Sneakers, Gold Hoops, White Denim, Black Denim, Denim Jacket, Denim Shirt, Black Sunglasses, White Converse Sneakers, Black Converse Sneakers, Black/Brown Skims Bodysuits, Black/Brown Wide Leg Pants, Gold Chunky Hoops (code DANIELLE20), Strappy Sandals, YSL Crossbody, White Button-Up
---
Staple Tops
White Tee - You can't go wrong with a simple white too! It's so versatile and can be dressed up or down. I have the Abercrombie essential easy tee in almost every color - it's the perfect fit (not too tight or too loose) and is only $25.
Bodysuit - While I love my Abercrombie bodysuits, I'm also obsessed with these Skims bodysuits! They're so comfortable, flattering, and come in every color. I also love this bodysuit from Amazon, which I have multiples of in every color!
Satin Blouse - Love a satin blouse because it's a great workwear staple that you can also bring into date night or your weekend plans. So easy to dress up or down, while still looking put together!
White Button-Up - One of those spring staples that's just a non-negotiable. Abercrombie is one of my go-to places to shop for good quality button-ups that also won't break the bank.

Staple Bottoms
Medium Wash Denim - Jeans are my love language, and you know my love for AGOLDE, in particular, runs deep. If you're not quite ready to splurge on a pair of jeans, try Abercrombie Denim, which is another favorite!
White Denim - When it comes to white denim, it's important to be on the lookout for a thicker material that's low-stretch denim. AGOLDE, again is a top-choice for me, but I also love this Abercrombie 90s relaxed pair.
Black Denim - My favorite black denim styles are the 90s Pinch Waist, and the Ultra High Rise Straight.
→ Check out this post for AGOLDE fit and sizing details
Wide Leg Pants - My love for the Abercrombie Sloan tailored pant runs deep! I have them in almost every color
Denim Midi Skirt  - While this isn't a make-or-break staple, I wanted to add this one to the list this year! I know I'm not the only one loving the denim mini skirt trend cause they are hard to get right now. They're selling out fast so snag one while you can!

Staple Outerwear
Blazers - I used to loathe blazers outside of a formal setting, until I figured out the shapes and styles that fit most with my personal style. I personally love a blazer that's a little on the longer and more oversized side. I feel my best when I can wear a fitted top with a pair of jeans and an oversized blazer! H&M is always my first stop when I'm looking for a new blazer and some of my favorites I own are from there! This Abercrombie blazer is another classic that will never go out of style.
Leather or Suede Jacket - If we're talking spring outerwear, these are really the only two things you need! This Abercrombie jacket comes in both leather and suede, in every color. As for leather, you can find pieces with a mid-level price point from brands like Topshop and Zara. I invested in this piece by AllSaints, which I've had for many years.
Denim Shirt - If you're wanting a piece of outerwear to throw over a tank that doesn't necessarily fall into the jacket category, denim shirts are it this season. This one from Madewell has been a top-seller and a fave of yours, too!

Denim Jacket - Especially when it comes to spring dresses and skirt outfits, a denim jacket always comes in handy when you want something a little more casual. I especially love an oversized fit for that cool girl look.
Trench Coat - This is one of those pieces that you'll have for years to come. They come in handy during the rain or when it's cold but not cold enough for a wool coat. Mango has a ton of cute styles right now including this classic one. H&M is another favorite place to shop for trench coats.

Staple Shoes
White Sneakers - In the Spring especially, white sneakers are what I wear most days. Jeans, midi skirt, dress...you name it, it's usually white sneakers! Converse is my go-to for everyday outfits, but lately I've been loving a lot of the New Balance styles as well.
Slingback Heels - Okay, this one is a little on the trendy side, but honestly a slingback heel never really goes out of style. It's an easy way to update your current heel situation. I just got this Sam Edelman pair and I'm obsessed! They're comfortable enough for a day at the office and are so flattering.
Strappy Sandals - Sandals are probably one of my favorite spring wardrobe staples to shop for each year. I have a pair in every color - black, white, nude... you name it!

Staple Accessories
Simple Bag - And no, it doesn't have to be designer! If you are buying designer, YSL is usually my brand of choice because I find that their bags are very practical and versatile. You can also find a ton of budget-friendly options on Amazon. Check out my Amazon Storefront for all my faves.
Gold Hoops - You'll find me wearing a pair of simple gold hoops almost daily. This pair from Electric Picks is my go-to most days. I also rounded up some of my favorites from Amazon here.
Layering Necklaces - Something as simple as layered necklaces have this incredible ability to elevate any outfit. I usually stack 2-3, with my most worn pieces being from Electric Picks. You can use code DANIELLE 20 for 20% off sitewide, always (plus, the brand has a lifetime guarantee on any piece you buy!).

Simple Sunnies - Sunglasses are the one thing I never really invest in because I'm always throwing them around, always misplacing them in a bottom of a bag, etc. Enter, Amazon...my sunglasses gold mine. I recently got this Prada lookalike for only $13.
How to Style Your Spring Wardrobe Staples
My favorite thing about staples is that you can use them to build a simple outfit on their own, or use them as your foundation around a trending or statement piece. Here are a few styling ideas!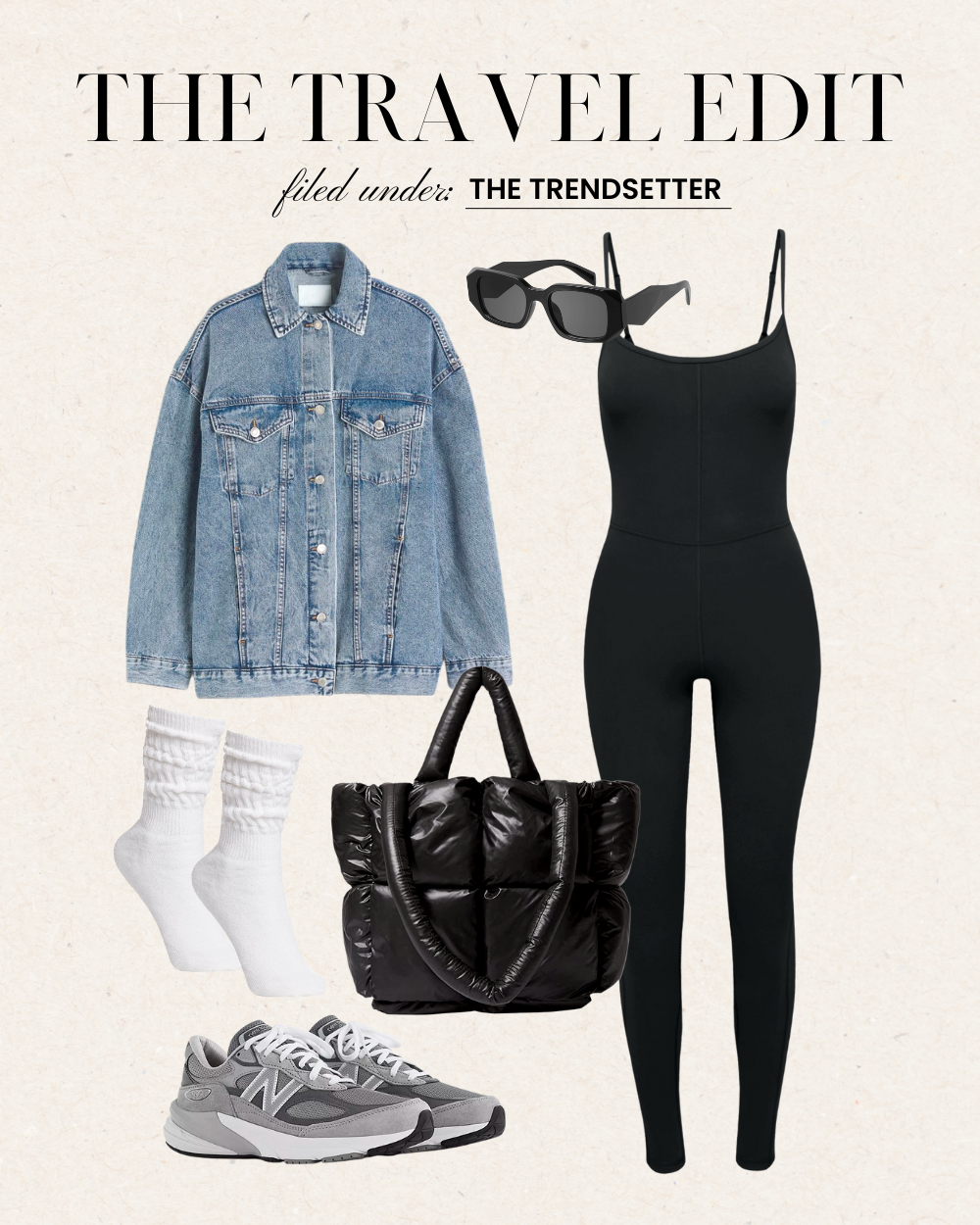 And that's your guide to Spring wardrobe staples! I'm willing to bet you probably already have a handful of these items in your closet and for those you don't, I hope this helped you to start piecing together your spring wardrobe foundation!